The reason for the US decision in 1971 to stop converting dollars into gold often is stated to be, that the West-European (+Japan) states, due to their post-war economic development, had run a balance of payments surplus with the US, out-competing the US, and were converting their dollars into gold.
Such is the textbook story, found also eg in Varoufakis's last book; And the Weak Suffer What They Must?: Europe's Crisis and America's Economic Future.
I think this story is false empirically, and probably relies on some bad economic trade theory (that Varoufakis, channeling Keynes, uses to explain the EU crisis as internal trade imbalance between surplus-Germany and deficit-periphery).
a chart of the evolution of Western-European gold hoards: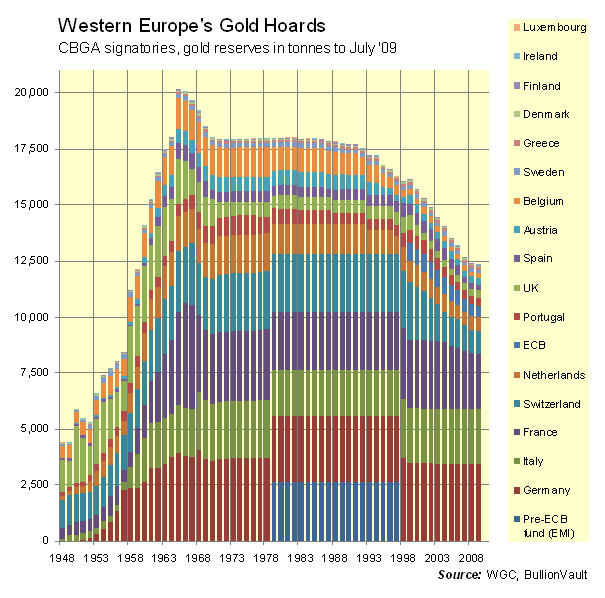 - Western-European countries could start to convert dollars into gold only around 1958 iirc. But notice that Germany already in 1957 had the biggest increase in its gold reserves.
a chart that shows evolution of total gold hoards in central banks (highlighting the Western European and US components):
Total European central bank's gold reserves around 1965 increased by 5000 tons even above the level of available US gold reserves. Hence they bought that part on the market, not from converting their dollars at the Treasury.
Via the gold pool (1960-68) private individuals could buy gold at a fixed price. The US lost gold in this way, but so did the other Western-European members of the pool, to private demand. By the way, the dollars required to do this were not necessarily held in hands of Europeans or European private banks. It seems the largest bank in the so called Euro-dollar market at the time was the First National City Bank of New York, which by the way had a license to trade in gold abroad. Americans themselves thus could have had a role in the early 1968 speculation on the gold market that lead to the closure of the pool.
But what about De Gaulle? By 1968 France was in a crisis, and had to sell gold to the US (notice the little rise in US gold reserves then). Thereafter, in 1971, they asked for conversion into gold of some dollars, but only in order to repay an IMF loan.
The rumor about Britain asking to withdraw huge amount of gold in August 1971 was used as an the immediate excuse by Treasury Secretary John Connally to justify the suspension of convertibility. But there is no basis for this rumor.
I think this whole textbook story is based on some wrong theory of "balance of payments", Triffin dilemma etc. Even after the suspension of convertibility, they are still just upheld also for non-convertible dollar. And what is understood by US balance of payment deficit? A decline of US power? But US investments abroad were strong, I think taking over European companies in Europe itself.